Our Imagine Math students are always game for sharing their learning successes with us. So, when we asked schools across the country to share their 2017 Pi Day celebrations with us, we weren't disappointed!
Here are the winning Imagine Math classrooms and the creative ways they celebrated the biggest math day of the year.
Thompson Elementary – Carrollton-Farmers Branch ISD (TX)
In Ms. Crump's first block (homeroom) and second block classes, students created Pi Day posters that showcased the creative side of pi. Thanks for the inspiration!
Henderson Middle School – Vance County Public Schools (NC)
At Henderson, Mr. Banaag's students made Pi Day into a week-long celebration, including
A quiz bee, in which students answered math trivia questions and solved math problems
A pie-eating relay race, in which participants ate pie while traveling through an obstacle course and simultaneously solving math problems and puzzles
A 'digits of pi' memorization contest
A math art contest
Congratulations to Henderson students for a fun, math-filled week.
Barnegat High School – Barnegat Township School District (NJ)
Thanks to Ms. Reick, Barnegat students learned how to locate their birthday combination within the digits of pi. Sounds like a winning combo to us.
Foxboro Elementary School – Davis School District (UT)
In Utah, Ms. LeFevre's fourth graders colored the pi symbol and charted how often a digit occurs in the pi sequence. Great activity!
Anne Frank Elementary School – School District of Philadelphia (PA)
In Ms. Schuler's class, fourth graders spent the day exploring pi through art, poetry, music, and practical math applications. They even found circumference for everyday classroom objects. Now that's a well-rounded approach to learning about pi.
Watch the video below to hear Ms. Schuler's students sing the Pi Day song!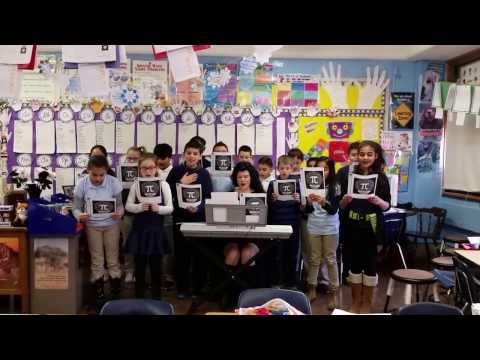 Duval Charter Scholars Academy – Charter Schools USA (FL)
For Pi Day, Ms. Mayfield-Price immersed her fifth-grade class in several fun activities. These included:
Solving math puzzles
Reading "Sir Cumference and the Dragon of Pi" and then creating a new story with an alternate ending
Graphing the first 100 digits of pi
Participating in a whipped cream "pi" auction, in which the top three bidders got to pie their teacher
At the end of the auction, students had raised $108.07 for their end-of-year class activities. Sounds like a winning time all around!
Congratulations to all the winning schools. Enjoy your pizza party–and keep on loving Imagine Math!